CM Lights the Lamp at KLF 2023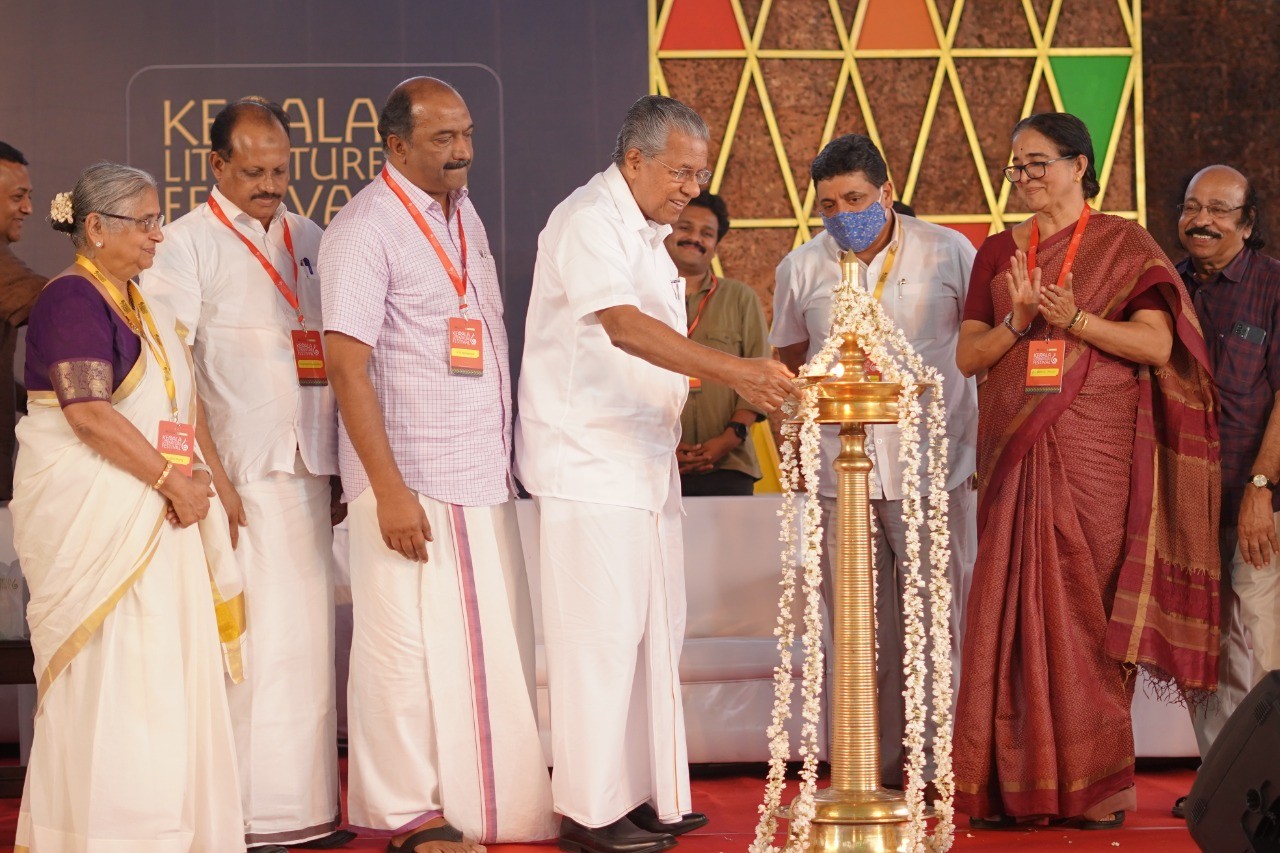 Honourable Chief Minister, Pinarayi Vijayan arrived at the venue of the 6th edition of Asia's second-largest literature festival held at Kozhikode beach on Thursday evening by 5:30 pm. Ravi Dee Cee welcomed respected dignitaries on the dias, including Chief Minister Pinarayi Vijayan, Booker prize winner Shehan Karunathilaka, renowned writer Sudha Murty, former chief minister of Tamil Nadu Palanivel Thiagarajan, pop queen Usha Uthup, finance minister K N Bala Gopal, Indian author and journalist K R Meera, writer M T Vasudevan Nair, Nobel prize winner Ada E Yonath and minister for ports, Ahmed Devarkovil. The inauguration of the function was auspiciously done by the honorable Chief Minister by lighting the lamp.
He said that three international festivals are happening in Kerala: the IFFK, the Biennale, and the sixth edition of the KLF. He was much obliged to be a part of the 6th literature festival. The number of sessions, the speakers, the topics of discussion—everything adds to the prominence of Kerala's literature festival. They have spent 7 crores on uplifting Kozhikode, and it was possible through the Kerala Literature Festival. He welcomed everyone on behalf of the Kerala government. He extended his wishes to D C books and hoped for the development.
 Even if reading perishes elsewhere, it will still persist in Kerala, and this festival remains as a testimony to that. The lonely minds will have curiosity for knowing others' lives and it is through this reading that it gets promoted among the people of the current era. He said that how a false notion could never change to truth even when repeated hundred times. He extended the role of writers in confronting the issues of society in the contemporary world. By quoting the words of Sree Narayana Guru that we have to preach light, Pinarayi Vijayan ended the speech with the note, "Let the light spread inside the minds of each and every one."