DC BOOKS takes its name from the Doyen of the Indian publishing industry, Dominic Chacko, the founder of  DC Books, popularly known as DC– a well-known writer, activist, freedom-fighter and book publisher from Kerala. He founded the book publishing company and played a pivotal role in abolishing sales tax on books in the erstwhile state of Travancore. This move influenced Prime Minister Jawaharlal Nehru to abolish sales tax on books across India. It was the result of his vision and relentless passion for reading that kick-started the culture department of the state. He was awarded Padma Bhushan in 1999. He was instrumental in promoting Malayalam, through his writings as an author, and was a columnist for various publications and through his printing and publishing company, DC Books and retail concern, Current Books.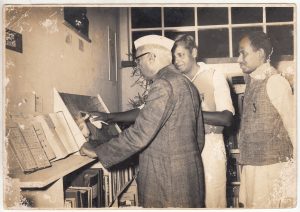 DC's destiny was inextricably linked with books. He along with his friends opened a bookstore called National Book Stall in Kottayam. Soon after that, DC Kizhakemuri started Sahitya Pravarthaka Co-operative Society (SPCS). The society was the first of its kind in Asia. SPCS published the best of works in Malayalam and worked for the welfare of the writers. In 1949, NBS and SPCS joined forces. Under the dynamic stewardship of DC, this merger heralded a new age in Malayalam publishing and production. The NBS network covered all the districts in Kerala and SPCS emerged as the biggest publisher.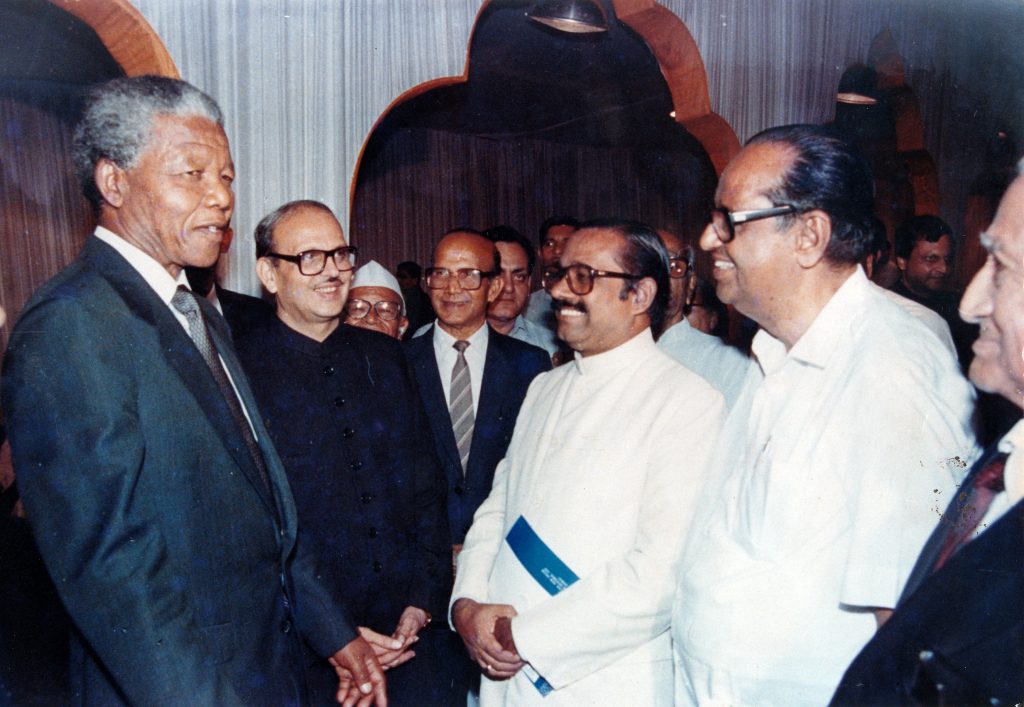 THE MARKET LEADER
An organization which has a strong market presence, DC Books has successfully promoted its authors and has prominent titles each crossing over 100,000 copies. Evergreen classics published by DC Books such as 'Khasakinte Ithihasam'(Legends of Khasak) – by O V Vijayan, 'Aarachar' by K R Meera, My Story by Kamala Das (Madhavi Kutty) etc still remain bestsellers even a decade after its first edition was published.
DC Books descry the lion's share of intellectual property as well as content suited for the Indian market and publish approximately 1500 books every year.
DC Books is the front runner in working with authors and readers to co-create an interactive experience of reading. With almost 50 retail stores across South India, and a chain of book stores and agencies in the Middle Eastern countries, DC Books boasts of a Publishing roster of Nobel Laureates, Jananpit Laureates, Pulitzer Prize winners, Sahitya Academy Winners etc.
Having received the maximum number of awards among the Indian publishers for excellence from the Federation of Indian Publishers, the apex body of publishers in India, DC Books is the pivot around which Kerala readers revolve.
ALL IN FOR FREEDOM OF EXPRESSION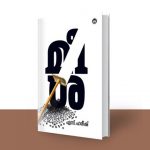 DC is proud to remain as for how it started, Non-aligned. Taking no sides, masking none, and by never taking no for an answer in the relentless quest to provide platforms and opportunities for the very best from the fields of literature. Publishing the title  "Meesha'by S Harish resulted in political parties and religious fanatics marching into the DC Corporate Head Office demanding the ban of the release. DC Books paid no heed to the cacophonous and continued distribution and promotion of the controversial book with ample police protection and support from the state. Perumal Murugan's  'Ardhanareeswaran', Gail Tredwell's 'Amritanandamayi Matt: a Sanyasiniyude Velippeduthalukal' etc are some of the works that were laden with threats.
AUTHOR READING SESSIONS 
Engaging readers at every juncture DC Books holds author interactive / reading sessions at many of its retail store chains across. Prominent authors such as Arundhati Roy,Taslima Nasrin, William Darymple, Shashi Tharoor,Chetan Bhagat, Ravinder Singh, Savi Sharma have all had reading sessions in various DC Books Stores over the years bringing readers a rare opportunity to interact with authors.

CREATIVITY AT THE HELM OF PUBLISHING 
DC had earlier published a four-sided Paulo Coelho greeting card instead of regular Christmas that shed light into one of Coelho's short stories.
DC Books had earlier published, a book cover with a mirror on it for Sukumar Azhikode's 'Tatwamasi' and a thousand variations of illustrations by Sudhessh Kotembrah for M Mukundan's 'Mayyazhipuzhayude Theerangal', and by Bara Bhaskaran for O V Vijayan's 'Thalamurakal'.

DC DOCUMENTATIONS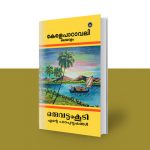 Ranging from 'natural' to 'native' to 'traditional' to 'rural' and in some cases 'from the heart.' The 'outpourings from the heart' of native or traditional people later takes the form of folklore. Literature, in written form, helps in preserving the folklores and oral traditions. But for the literature in this form, the world would have lost almost all the folk and oral traditions. Written books, as recordings of folklores help in passing on the lofty thoughts and ideas to posterity with no or very little changes in contrast to oral traditions where they often get lost in transition. Literature also can highlight the relevance of the stories of the past to the generation of the present, something which the oral traditions cannot strongly do. DC Books has a dedicated team of researchers and subject matter experts that go about preserving age old folklores and folktales.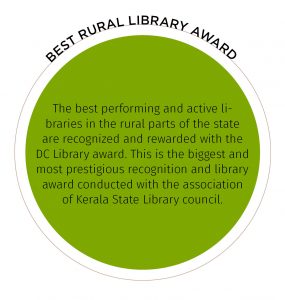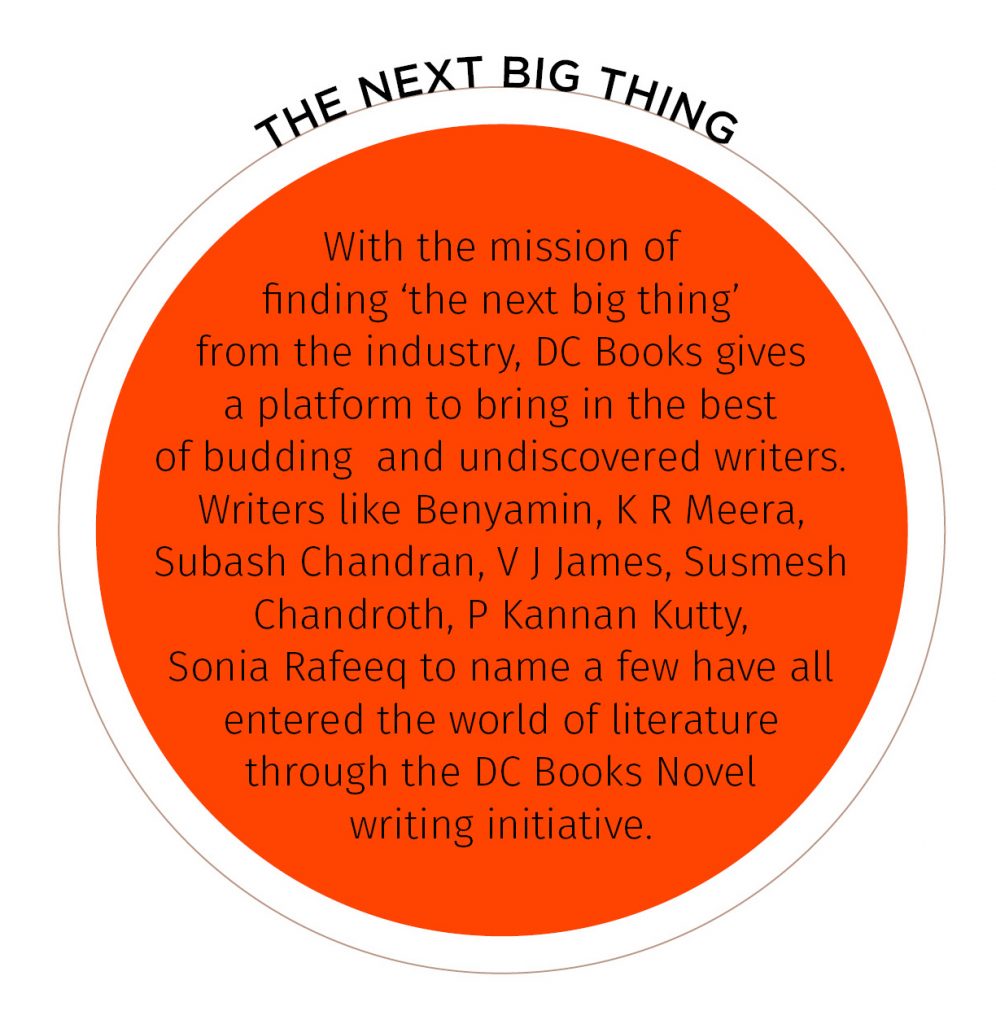 KERALA LITERATURE FESTIVAL 

DC Kizhakemuri Foundation, conceived in 2001 under the Travancore Cochin Legislation of 1957, is formed as a tribute to the late DC Kizhakemuri, founder of DC Books. The DC Kizhakemuri Foundation(DCKF) organizes a wide range of art, education and cultural activities. DCKF in association with DC Books spearheads the Kerala Literature Festival, the second largest literature festival in Asia. Over 2.7 lakh people attending the four-day festival, each year, make the KLF an indelible affair in the literature scene.
(To know more about KLF Click here)
TRANSLATIONS PROGRAM 
DC Books has been instrumental of bringing authors from around the world to vernacular languages and has the largest number of translations into vernacular languages in India. Various titles by DC Books have been translated into French and many other international languages. Many internationally acclaimed such as Paulo Coelho, Gabriel García Márquez, Gunter Grass, Simone de Beauvoir, Orhan Pamuk,  Kazuo Ishigoro etc have all had their works translated into Malayalam by DC Books. A renowned publishing house, many international authors have their books released in Malayalam under the DC Books brand.
A huge array of nationally acclaimed authors too have their works from other languages translated to Malayalam. Literary stalwarts such as Shivaji Sawant (Marathi), Pratibha Ray (Odissi), Perumal Murugan (Tamil), Bimal Mitra (Bengali), Gauri Lankesh (Kannada), have had their works translated into Malayalam through the DC Books brand.
Hangwoman by K R Meera was translated to English and published by Penguin books. 'Jasmine Days' by Benyamin  won the JCB Prize for Literature. While 'My Story' by Madhavikutty(Kamala Das) was translated into 15 languages including German , 'The legends of Khazak'  by O V Vijayan was translated into German, French and English and 'Mayyazhippuzhayude Theerangalil ' by M Mukundan to French and the 'Autobiography of a sex worker' by Nalini Jameela in French and English.

DC Books holds the unique distinction of having the translated version in print of most international awards winners (Nobel Prize for Literature, Man Booker Prize, Pulitzer Prize etc) at the time of the announcement of the award. Many international and national level authors prefer to have their copyright agreements for translations directly with DC Books rather than going through their agents or publishers.
DIGITAL MEDIA 
FB has an audience base of half a million users with Instagram and twitter accounts all being verified. The DC Books' you tube channel has a wide range of discussions on topics ranging from socio-cultural, economic, history, and politics garnering a massive viewership of 1.3 billion views.  Speakers of repute like Noam Chomsky, Arundhati Roy, Chetan Bagath, Sashi Tharoor,Yuval Noah Harari, Sadh guru, Rakesh Sharma, Benyamin, Subhash Chandran have all panels and discussions on various topics and book releases on the DC Books YouTube channel.
Audio/E-books 
All the books published under DC books are made available for purchase in audio/ E-book formats across the world through the E-commerce platform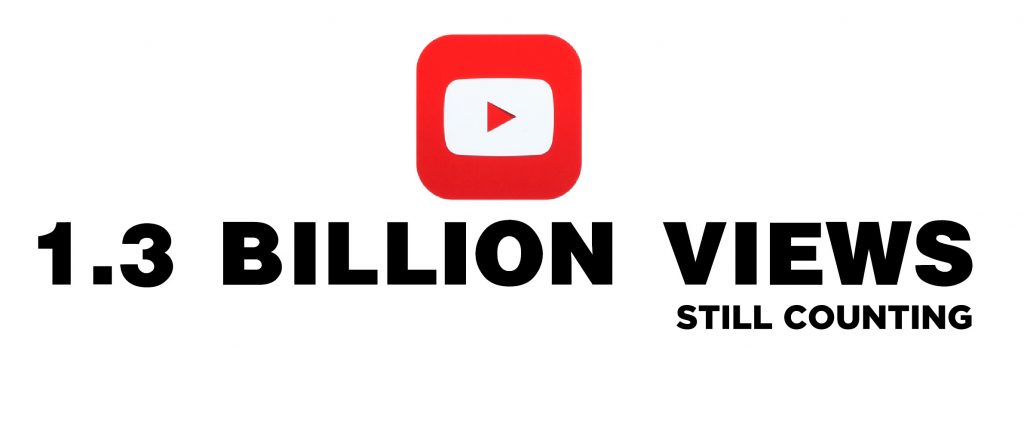 IMPRINTS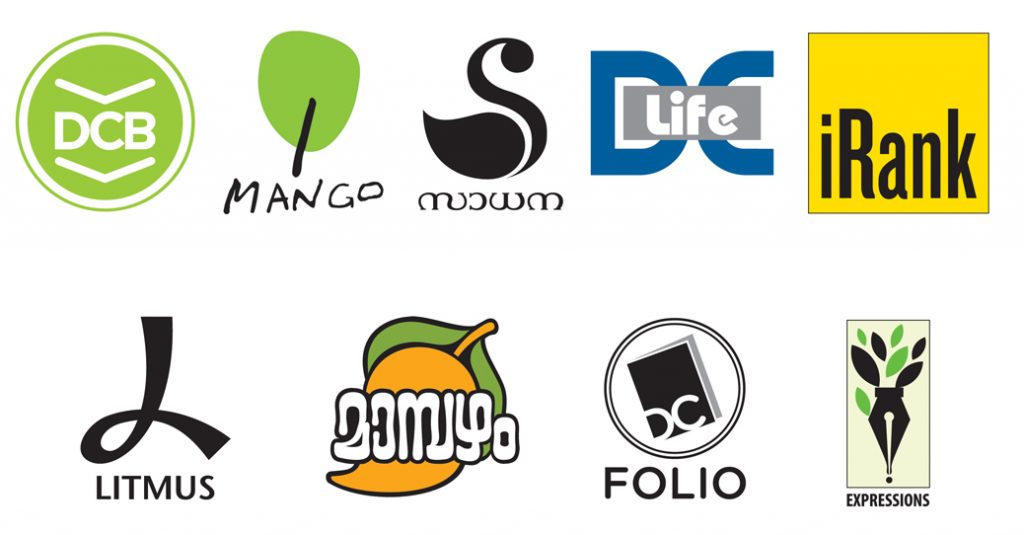 DC Books
DC Books is one of the oldest book publishers in Kerala, India. Today the company continues to build upon its illustrious history by publishing bestselling, award-winning books in the areas of literary fiction, mysteries and thrillers, history, biography, politics, current events, science, psychology, and books for children and young adults.
In addition to the DC Books imprint, the company also publishes books under Mango Books, Sadhana, DC Life, I Rank, Litmus, and magazines like Pachakuthiraand Emerging Kerala. Each imprint offers a distinctive list of books that contribute to the spectrum of views and voices that DC Books brings to readers of all ages each day.
Mango
Mango is the distinctive children's and young adult's English literature and content safely tucked in under the DC Books Publishing Umbrella. It is one of the most prestigious children's book publishers out there,  Publishing about 50 hardback children's books a year, from toddlers all the way up to Young Adult.
Sadhana
Our religious publishing is sure to have something to offer the reader – from liturgical use to major religious biographies, pastoral, spiritual, theology, astrology, numerology, mantra, puja books etc constituting the Sadhana imprint.
DC Life
DC Life devoted to publishing the most exciting and authoritative authors and brands in the lifestyle and wellness categories. Ranging from beauty, fashion and home to cooking, diet and fitness to inspiration, self-help, and relationships, DC Life is one of the book industry's top publishers of practical non-fiction.
Irank
Irank, an imprint of DC Books, publishes and distributes academic and educational books in the English language focused in India. Many of the books published under the imprint 'Irank', are used in Universities and schools across the country.
Litmus
Publishes books with a commercial bent. The company continues to build upon its illustrious history by publishing bestselling, award-winning books in the areas of literary fiction, mysteries and thrillers, history, biography, politics, current events, science, psychology etc.
Mambazham
The Malayalam children's wing of DC Books provides a sweet treat for kids leaving a solid foundation for expanding their linguistic abilities. Ranging from fiction, fantasy, mythology and non-fiction these Malayalam books, aims to inculcate diversity in reading amongst the younger generation.
DC Folio
It aims to demystify entrepreneurship with success stories from the business world. Ranging from memoirs to biographies and autobiographies, DC Folio brings in a flavor of relatability and closeness to what might seem unattainable and distant.
Expressions
With a curated list of services in editorial, designing and production, Expressions, the self- publishing wing of DC Books will let you leave an imprint in the literary world.. Launched with an aim to cater to the needs of aspiring writers, it provides a guided navigation for an entrepreneurial journey.
DICTIONARIES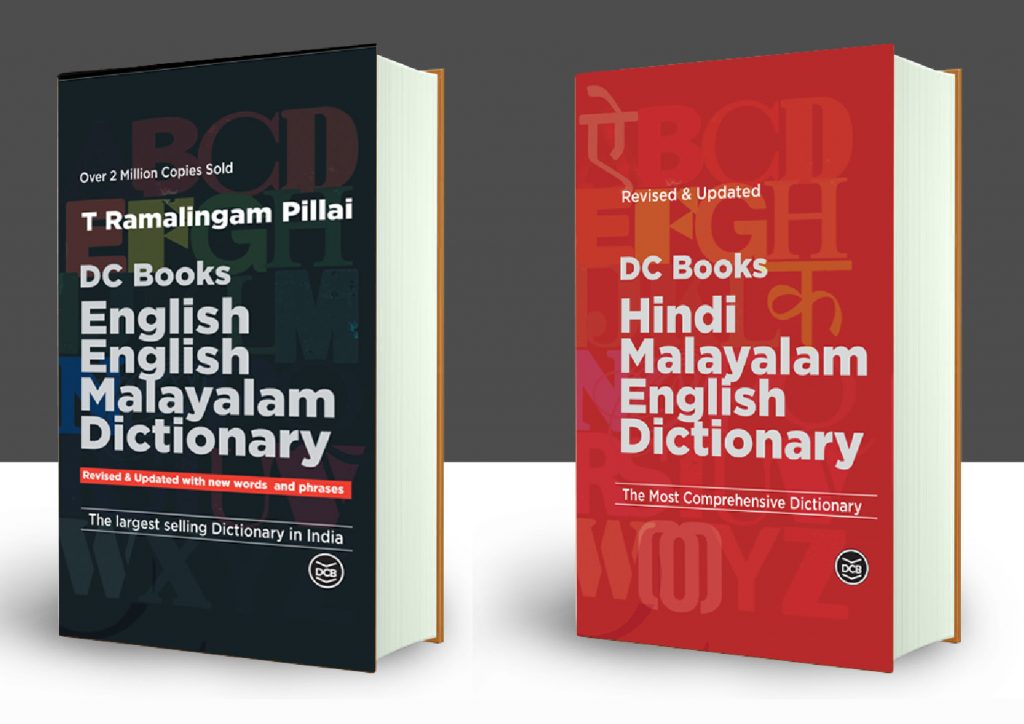 DC Books is the publisher of the largest selling dictionary in India. English-English-Malayalam dictionary by T. Ramalingam Pillai has over 2 million copies sold till date.
DC MAGAZINES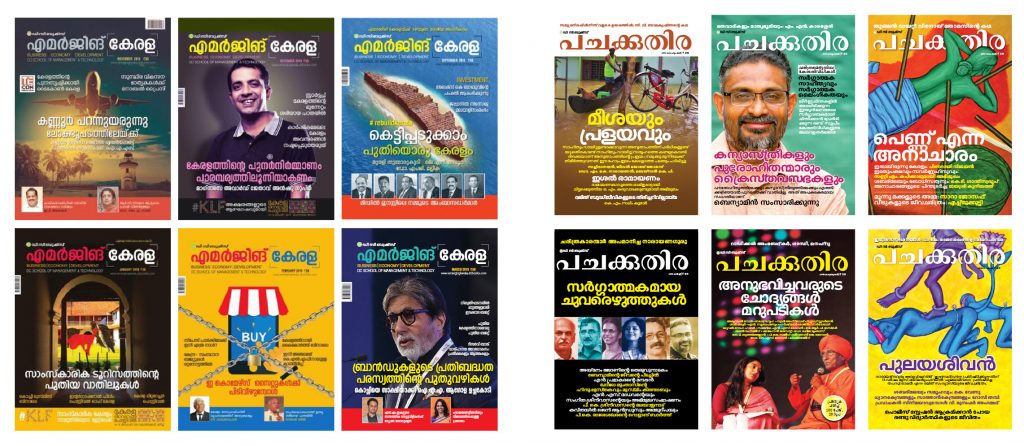 Pachakuthira
A monthly in Malayalam, Pachakuthira covers main topics of general interest such as current affairs, politics, social issues, articles and poems, interviews with important personality and so on.
Emerging Kerala
A magazine which focuses on the socio-economic development of Kerala.